Sustainable Sensory Play with Coloured Rice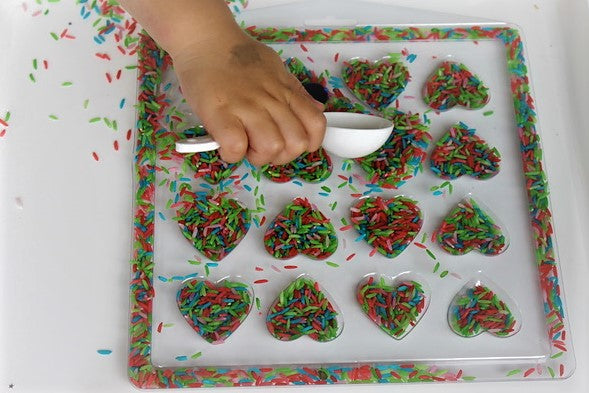 Nicky Renwick from create. laugh. play shares her sensory play ideas to kick start you on your sensory play journey with your Little.
In these modern times, despite all the understanding we have about the impacts of our everyday lives upon the environment, we are still living in a time of excess. Excess waste, indulgence, pollution, excessive cost of everything and in general an excess of stuff.
There are so many toys and learning resources that we are told we really "must have" to ensure our children are constantly entertained and will grow up feeling stimulated and loved.
Most of these products come in excessive packaging, are made of or heavily wrapped in plastic, aren't well made and can only be played with in a limited number of ways. Before long our children have completely lost interest in them.
You can give your children an amazing kick start in life with sensory play at home and it can be incredibly affordable and for those that are sustainable and environmentally friendly.
What is Sensory Play?
Sensory play is basically any play that stimulates the senses such as touch, smell, sound, movement and sight. Taste is another key sense but I personally don't include that in our sensory play – one of my main rules is we don't eat our art or play resources.
Sensory play is widely regarded as critical to brain development, problem solving, enhancing memory, development of language and those oh so critical fine and gross motor skills.
Sensory play also has many other benefits such as calming behavior and anxiety, it can be great for quiet times especially if like me you have a young child that really doesn't do day sleeps – some quiet time just tipping water from one container to the next can be fantastic for re-charging their batteries and developing creative thought. It enables your child to explore their imagination and self-entertain…all the while giving the caregiver a break and avoiding screen time. There are many other benefits to sensory play such as development of body awareness and balance, and if included with other children, a great way to develop social skills and cooperation.
How do we embark on a sensory play journey and do so in a way that is affordable and sustainable?
The best sensory resources I have found are those found in your home and garden.  If you have a good supply of food colouring, white vinegar, flour, baking soda and cornflour – you can keep your children immersed in a range of sensory activities for years. You can use basins and buckets you already have, cups and sieves and funnels, muffin trays, recycled food containers, spoons and eye droppers for scooping and pouring, squirting and splatting, banging and building. You don't need a fancy sensory table – sitting outside on the lawn or patio is more than sufficient. Sensory play can often involve messy play so looking at ways to manage this, like doing it outside as much as possible or placing covers over the floor will all help manage your own personal sanity and ability to relax and really let your little ones go for it.
Coloured Rice Play for Toddlers
Ingredients:
3 cups of white rice
2 drops of *Naturally Colourful Food Colouring per cup of rice
Vinegar
*Naturally Colourful Food Colouring is made from extracts of fruit and vegetables and is easily composted.
Method:
Place 2 drops of colouring and a dash of vinegar into a bowl mix in 1 cup of rice.
Store in an airtight container.
How to play:
Coloured Rice can be scooped and poured in an infinite number of ways, it makes great sounds as it is poured that will vary depending upon what type of containers you pour it into.
For example, plastic containers, glass jars and tin-roasting dishes will all make a wide variety of sounds. It makes a great base for small world sensory play, just add some toy figurines or vehicles and watch their imaginations run wild. My own children love to endlessly pour coloured rice into baking trays and silicone molds and pretend they have their own bakery. It is easily swept up (another learning opportunity for your child) and reused and when you can no longer pick the extra dust and detritus out of it.
Finally, at the end of its life it can be moistened and added to a worm farm or compost.
Nicky Renwick has a professional background in ecology and environmental management, please follow her over at create . laugh . play.